Expensive submarine sea crossing service for refugees set to attract coast guard boats during drownings
Khamis al-Atta - Border economy correspondent
05 Jul 2023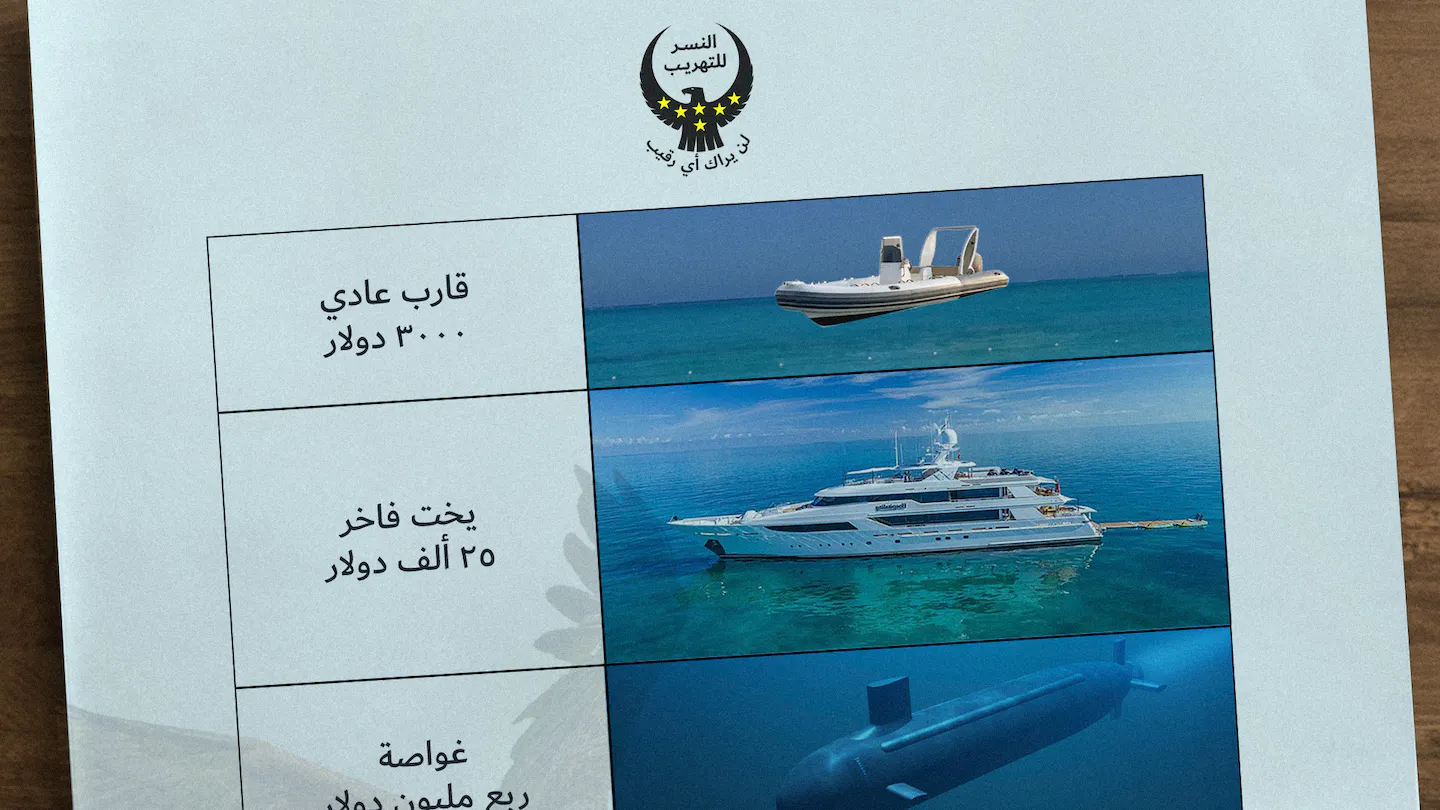 A smuggling and human trafficking service has begun offering a new package for refugees fleeing their homelands to Europe via the Mediterranean which will allow them to make the crossing in expensive but decrepit submarines as though they are wealthy adventurers.
Al-Nisr Trafficking LLC said it hopes the new Smuggling via Submarine (SvS) service will encourage coast guard forces in Europe to actually intervene instead of callously watching from afar when refugees drown en masse on their marine borders.
Badran Shahbaro, the head of marketing at al-Nisr, said the new initiative could revolutionize the experience of miserable new refugees.
"In addition to the increased safety measures, the submarine trip also has a unique touristic quality, allowing refugees to experience the depths of the Mediterranean while they are alive and to even explore previous refugee shipwrecks," he said.
Shahbaro urged refugees to book their submarine tickets quickly.
"Seats are limited," he said. "These submarines were designed for just five people, which means we are only able to accommodate 50 refugees per vessel. We are also offering a brand new service to the first 200 refugees who sign up that will give fake IDs with European names like Francois, Tony, John and Hans to increase the likelihood that they will be rescued in an emergency situation."
Shahbaro said the submarine experience does have its own drawbacks. The possibility of drowning still exists, which remains the leading deterrent to people attempting illegal migration.
"Nevertheless, in the worst case scenario they will die by drowning due to a lack of oxygen rather than letting their bodies float in the middle of the sea and get eaten by fish," he said. "The submarines can be considered tombs that preserve their dignity forever. And you can't put a price on that."
هل أعجبك هذا المقال؟
لكتابة العنوان، اقترح فريق من ٧ كتاب -على الأقل- ما يزيد عن ٣٠ عنواناً حول هذا الموضوع فقط، اختير منها ٥ نوقشوا بين الكتاب والمحررين، حتى انتقوا واحداً للعمل على تطويره أكثر. بعد ذلك، يسرد أحد الكتاب أفكاره في نص المقال بناء على العنوان، ثم يمحو معظمها ويبقي على المضحك منها وما يحوي رسالةً ما أو يطرح وجهة نظر جديدة. لدى انتهاء الكاتب من كل ذلك، يشطب المحرر ويعدل ويضيف الجمل والفقرات ثم يناقش مقترحاته مع الكاتب، وحين يتفقان، ينتقل النص إلى المدقق اللغوي تفادياً لوجود الهمزات في أماكن عشوائية. في الأثناء، يقص فريق المصممين ويلصق خمس صور ويدمجها في صورة واحدة. كل هذا العمل لإنتاج مقال واحد. إن ضم المزيد من الكتاب والمصممين إلى الفريق التحريري أمر مكلف، ويستغرق المتدرب وقتاً طويلاً لبناء الخبرات والاندماج في العقل الجمعي للفريق.لكن ما الهدف من ذلك كله؟ بالتأكيد أنَّ السخرية من المجانين الذين يتحكمون بحياتنا أمر مريح، لكنَّنا نؤمن أنَّ تعرية الهالات حولهم، وتسليط الضوء على جنونهم، خطوة ضدَّ سلطتهم تدفعنا شيئاً فشيئاً نحو التغيير.نحن نحتاج دعمك للاستمرار بتوسيع الفريق.