Germany wins Israeli endowment to repress Palestinians abroad
03 Jan 2022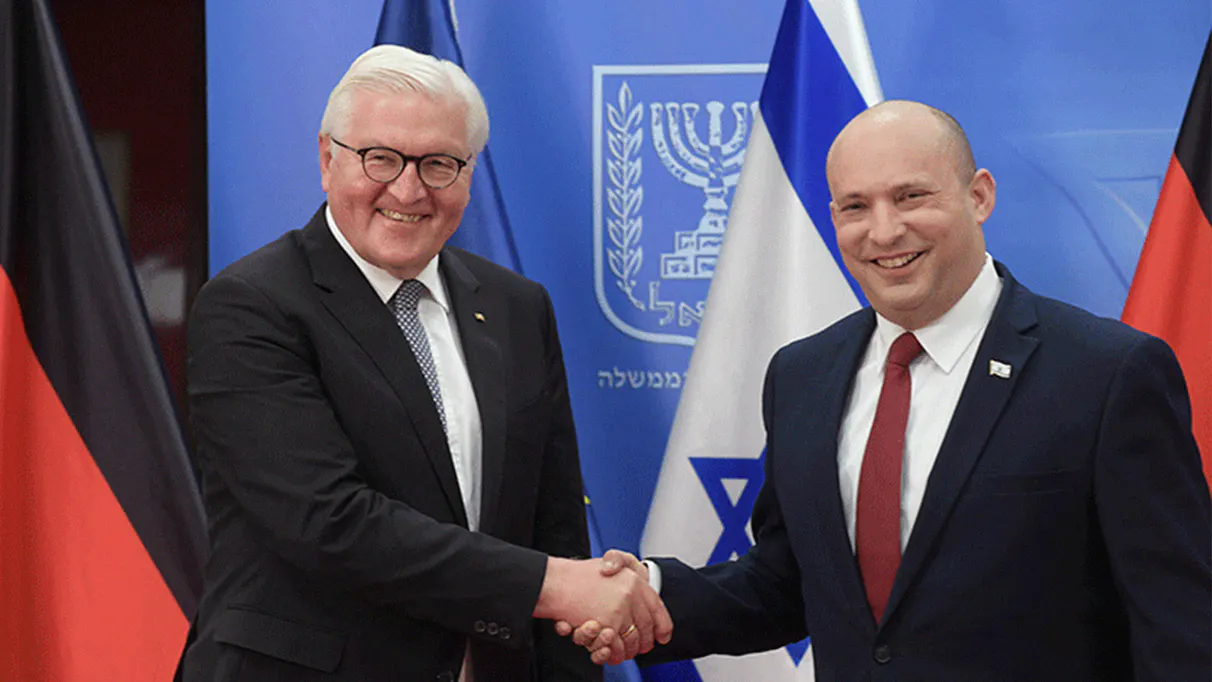 After the unprecedented success in silencing all outlandish anti-Semitic voices of the Palestinians, or even any voice that shows the slightest tone of sympathy, Germany reiterated its status as the beacon of Israeli freedom in the whole world and won an endowment to represent Israel's interests abroad. 
The awarding of the endowment came as a reward for Germany for its efforts in keeping the peace and relieving Israelis from the burden of suppressing, oppressing, and repressing Palestinians outside their borders so they could sleep peacefully at night.
The caretaker prime minister of Israel, Naftali Bennett, praised the thoughtful endeavors of German authorities to break the will of the Palestinians and anyone who feels sympathetic toward them.
"The news of Germans cracking down on the Palestinians is overshadowing our own efforts," he said. "I thought they did more than enough after the dismissal of journalists who opposed the Israeli humanitarian cause, then defending the pure image of Israel when some crooks claimed we stole their homeland, trying to sabotage our reputation." 
"But the Germans outdid themselves when Goethe-Institut withdrew the invitation from the terrorist Mohammed El-Kurd to attend its conference, without investigating the issue," he said. 
He added that Germany is a role model to the world, embracing the Zionist ethos, and a few Israeli universities intended to launch exchange programs, sending students to Germany to master the skills of handling these anti-Semitic creatures.
Bennett also recommended a few activities the endowment should invest in to defend Israel against any haters.
"We are confident in the Germans' competence; they are the pioneers, the founders of modern repression," he said. "We don't doubt that they will blow our minds and the whole world."
"We also plan to reward their generosity and send the one-and-only peace activist, Itamar Ben-Gvir, to inspire, advise, and teach them how to deal with any difficult cases," Bennett added.
Meanwhile, the President of Germany, Frank-Walter Steinmeier, expressed his gratitude to Israel for its gift and for correcting the German misinformation on the Palestinians.
"Germany and Israel are one entity for ages," he stated. "We suggest, instead of the money, transporting some chained Palestinians to exhibit them through the streets of our cities and let citizens contemplate their brutality more closely, popularizing the culture of persecuting the Palestinians among all Germans to expand it beyond government institutions."
هل أعجبك هذا المقال؟
لكتابة العنوان، اقترح فريق من ٧ كتاب -على الأقل- ما يزيد عن ٣٠ عنواناً حول هذا الموضوع فقط، اختير منها ٥ نوقشوا بين الكتاب والمحررين، حتى انتقوا واحداً للعمل على تطويره أكثر. بعد ذلك، يسرد أحد الكتاب أفكاره في نص المقال بناء على العنوان، ثم يمحو معظمها ويبقي على المضحك منها وما يحوي رسالةً ما أو يطرح وجهة نظر جديدة. لدى انتهاء الكاتب من كل ذلك، يشطب المحرر ويعدل ويضيف الجمل والفقرات ثم يناقش مقترحاته مع الكاتب، وحين يتفقان، ينتقل النص إلى المدقق اللغوي تفادياً لوجود الهمزات في أماكن عشوائية. في الأثناء، يقص فريق المصممين ويلصق خمس صور ويدمجها في صورة واحدة. كل هذا العمل لإنتاج مقال واحد. إن ضم المزيد من الكتاب والمصممين إلى الفريق التحريري أمر مكلف، ويستغرق المتدرب وقتاً طويلاً لبناء الخبرات والاندماج في العقل الجمعي للفريق.لكن ما الهدف من ذلك كله؟ بالتأكيد أنَّ السخرية من المجانين الذين يتحكمون بحياتنا أمر مريح، لكنَّنا نؤمن أنَّ تعرية الهالات حولهم، وتسليط الضوء على جنونهم، خطوة ضدَّ سلطتهم تدفعنا شيئاً فشيئاً نحو التغيير.نحن نحتاج دعمك للاستمرار بتوسيع الفريق.