Sisi prophecies Egypt will endure seven years of crap followed by seven years of famine
Taher ibn Hotob - AlHudood visionary correspondent
07 Jun 2022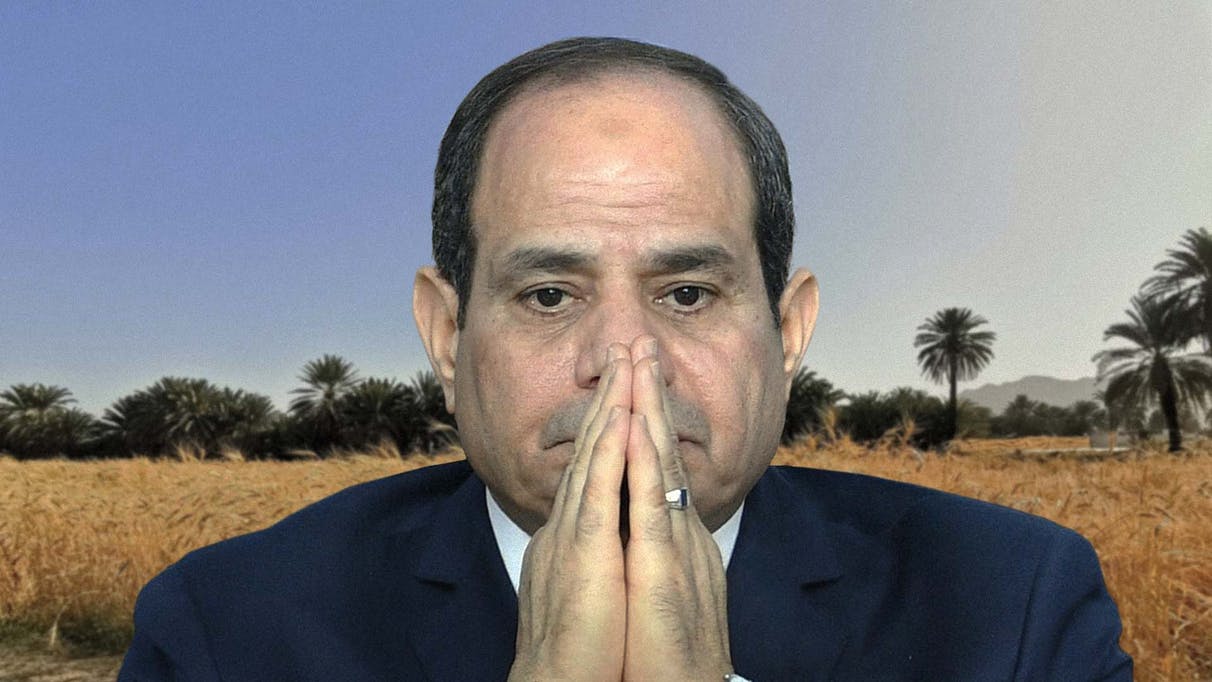 Egyptian President Abdel Fattah al-Sisi opened his heart at the inauguration of Egypt's Future' Project for Agricultural Production, revealing a prophecy that came to him in a dream about the impact of the Ukrainian war and Egyptians' unending appetite for wheat, declaring that the country will endure seven years of rising prices, lack of food staples, poverty, and a deeply unbearable, shitty life.
But he also revealed that these conditions, according to the prophecy, wouldn't last, and the sun would rise again once the effects of his economic plan kick in. However, it will cost the country another seven years of great hardship and famine, he said.
"Some experts proposed storing wheat spikes to extend the expiration period," he said. "But I prefer taking the reforms to the maximum and storing the crop at the field itself, saving the expenses of harvesting, transportation, and storage to build more bridges."
Sisi quoted the Prophet Joseph's declaration, "put me in charge of the store-houses of the land, for I am truly reliable and adept," as he described the weight of responsibilities on his shoulders as he sought to pursue attempts to improve the conditions of 100 million Egyptians amid the decline in food supplies due to the war in Ukraine. 
Sisi shared another vision that had come to him in his sleep that mirrored the prophecies of Jacob and Joseph, in which he saw thirteen stars representing his family members spreading in different industrial sectors of the country, and one moon that represented the First Lady of Egypt Entissar Amer, bejeweled with diamonds and holding a Gucci handbag.
هل أعجبك هذا المقال؟
لكتابة العنوان، اقترح فريق من ٧ كتاب -على الأقل- ما يزيد عن ٣٠ عنواناً حول هذا الموضوع فقط، اختير منها ٥ نوقشوا بين الكتاب والمحررين، حتى انتقوا واحداً للعمل على تطويره أكثر. بعد ذلك، يسرد أحد الكتاب أفكاره في نص المقال بناء على العنوان، ثم يمحو معظمها ويبقي على المضحك منها وما يحوي رسالةً ما أو يطرح وجهة نظر جديدة. لدى انتهاء الكاتب من كل ذلك، يشطب المحرر ويعدل ويضيف الجمل والفقرات ثم يناقش مقترحاته مع الكاتب، وحين يتفقان، ينتقل النص إلى المدقق اللغوي تفادياً لوجود الهمزات في أماكن عشوائية. في الأثناء، يقص فريق المصممين ويلصق خمس صور ويدمجها في صورة واحدة. كل هذا العمل لإنتاج مقال واحد. إن ضم المزيد من الكتاب والمصممين إلى الفريق التحريري أمر مكلف، ويستغرق المتدرب وقتاً طويلاً لبناء الخبرات والاندماج في العقل الجمعي للفريق.لكن ما الهدف من ذلك كله؟ بالتأكيد أنَّ السخرية من المجانين الذين يتحكمون بحياتنا أمر مريح، لكنَّنا نؤمن أنَّ تعرية الهالات حولهم، وتسليط الضوء على جنونهم، خطوة ضدَّ سلطتهم تدفعنا شيئاً فشيئاً نحو التغيير.نحن نحتاج دعمك للاستمرار بتوسيع الفريق.