UK and France induct 50 crocodiles into joint coast guard team to aid in migrant crisis
08 Dec 2021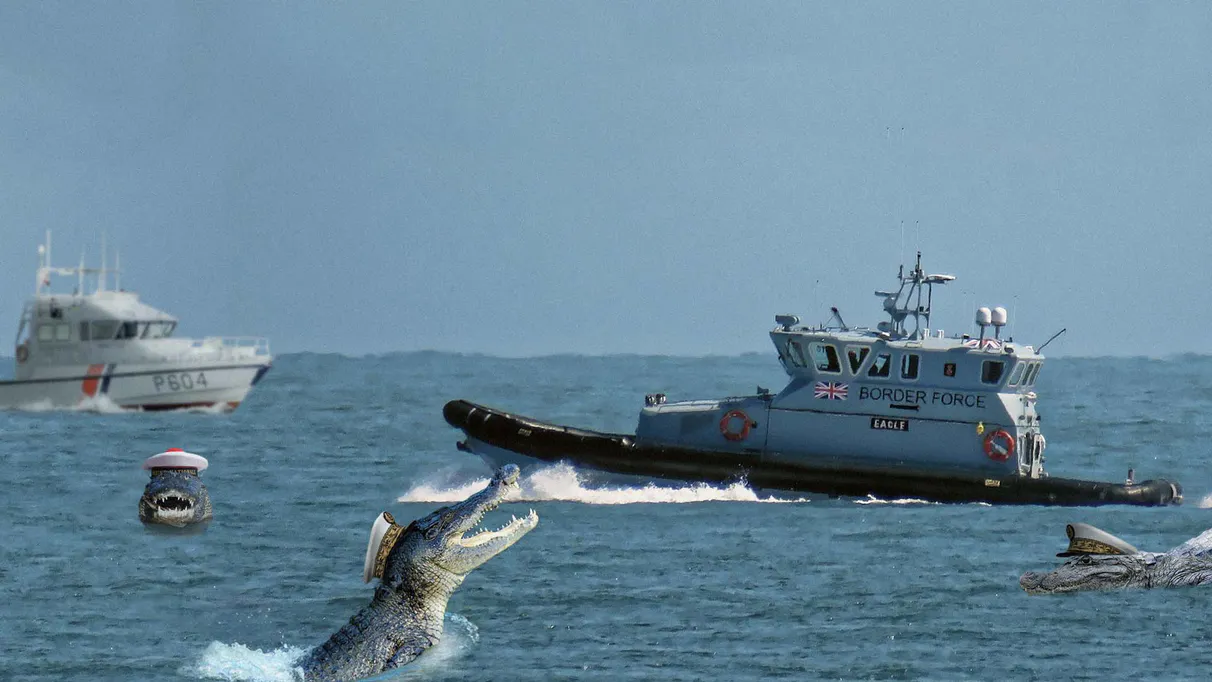 The UK and France announced a deal to limit migrant crossings across the English Channel after the recent tragedy that led to the drowning of over 20 refugees, which will see the induction of 50 crocodiles into a joint coastal task force to deter crossings and dispose of drowned bodies that may embarrass Europe on the international stage.
British Prime Minister Boris Johnson said in a speech at the crocodile swearing in ceremony that refugees were the primary culprits in their own drownings.
"We have repeatedly tried to send the message that they are not welcome here, and have consistently refused asylum requests including from former colonies and countries occupied more recently by our troops," he said. "And yet they persist in flouting laws and procedures and come to our shores as if they were our misbegotten children or because they think we underperformed in our mission to modernize and democratize their nations."
Johnson said the crocodiles were only the first step in protecting refugees from their irresponsible decision to seek a better life.
"The crocodiles will conduct extensive patrols that we hope will represent a barrier to refugees who want to cross, but if they happen to do so anyway they will devour their bodies to prevent them washing ashore and frightening our citizens or causing PR headaches," he said. 
French President Emmanuel Macron said the joint team are studying other ways to deter refugees, such as "bombing the boats with drones, or reoccupying some of the countries of origin to deal with the migrant issue at its roots."
هل أعجبك هذا المقال؟
لكتابة العنوان، اقترح فريق من ٧ كتاب -على الأقل- ما يزيد عن ٣٠ عنواناً حول هذا الموضوع فقط، اختير منها ٥ نوقشوا بين الكتاب والمحررين، حتى انتقوا واحداً للعمل على تطويره أكثر. بعد ذلك، يسرد أحد الكتاب أفكاره في نص المقال بناء على العنوان، ثم يمحو معظمها ويبقي على المضحك منها وما يحوي رسالةً ما أو يطرح وجهة نظر جديدة. لدى انتهاء الكاتب من كل ذلك، يشطب المحرر ويعدل ويضيف الجمل والفقرات ثم يناقش مقترحاته مع الكاتب، وحين يتفقان، ينتقل النص إلى المدقق اللغوي تفادياً لوجود الهمزات في أماكن عشوائية. في الأثناء، يقص فريق المصممين ويلصق خمس صور ويدمجها في صورة واحدة. كل هذا العمل لإنتاج مقال واحد. إن ضم المزيد من الكتاب والمصممين إلى الفريق التحريري أمر مكلف، ويستغرق المتدرب وقتاً طويلاً لبناء الخبرات والاندماج في العقل الجمعي للفريق.لكن ما الهدف من ذلك كله؟ بالتأكيد أنَّ السخرية من المجانين الذين يتحكمون بحياتنا أمر مريح، لكنَّنا نؤمن أنَّ تعرية الهالات حولهم، وتسليط الضوء على جنونهم، خطوة ضدَّ سلطتهم تدفعنا شيئاً فشيئاً نحو التغيير.نحن نحتاج دعمك للاستمرار بتوسيع الفريق.