Israeli authorities interrogate Ben & Jerry's cookie dough tub over BDS links
Shoban Al-Jarjiri - AlHudood's arbitrary expert.
19 Aug 2021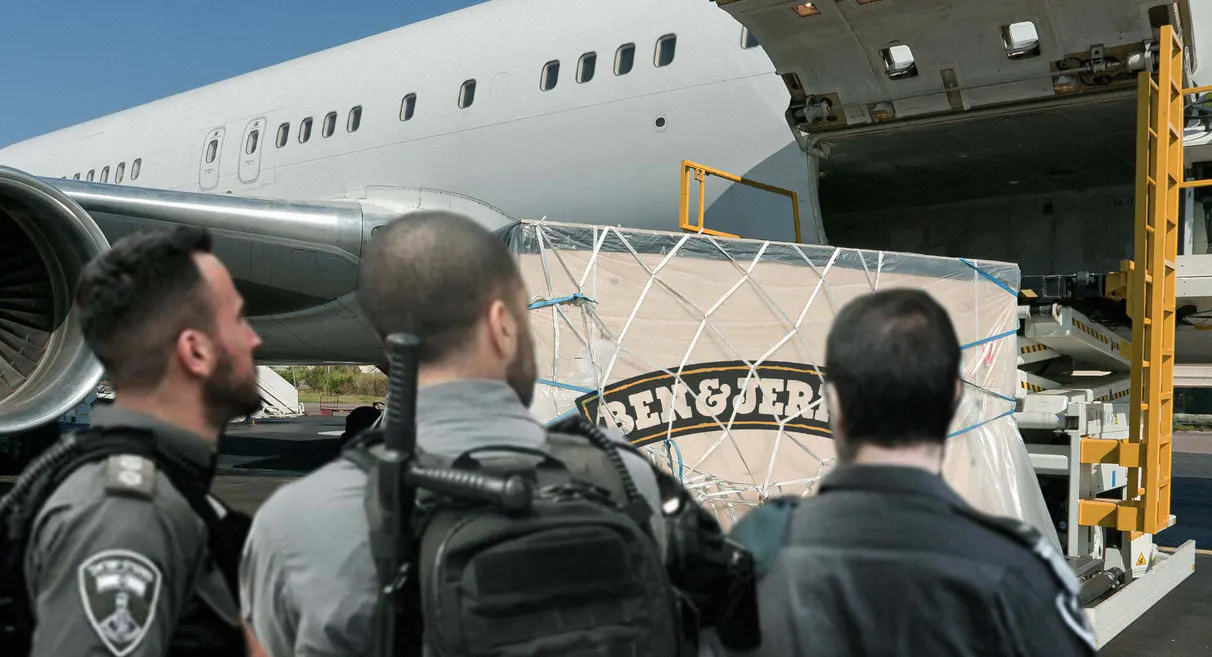 After Ben & Jerry's announcement banning the selling of their products in Israeli settlements in the West Bank, Israeli authorities detained a B&J cookie dough tub in Ben Gurion Airport for nine hours, interrogating it over link to the BDS (Boycott, Divestment and Sanctions) movement.
The Israel Security Agency (Shin Bet) issued a statement declaring that it has every right to seize anything, or anyone, that has suspected relations with the movement. 
"The detention of the tub is legitimate according to the 2017 Entry into Israel Law, since refraining from engaging in commercial activity with innocent settlers is tantamount to an existential threat; one that settlers have every right to exercise self-defense against." they added.
Isaac Herzog, president of Israel, argued that Ben & Jerry's is leading  a new form of terrorism. 
"This vicious act terrorises settlers' minds into selecting a new ice cream brand to eat, instead of blindly dumping a bucket in their shopping carts, followed by the suffering and dangers of sampling a new taste and texture that they might not savour in the sweltering summer, in turn oppressing them, yet again, to leave the house and search and taste and search and taste - indeed in a vicious, coldhearted cycle." he concluded.
The statement said that the long detention is effective in uprooting terrorisim right from its core, disciplining the tub through advanced melting techniques until it breaks down to a mushy liquid, while the container, enabling its terrors, deteriorates completely.
The founders of Ben & Jerry's, Ben and Jerry, indicated that accusations of them being anti-Israel are totally inaccurate, "We are all about Israel, pre-1967 Israel that is. Any later settlements - successing historic genocide, ethnic cleansing, and military rule - violate the progressive values that we support and build our factories upon."
هل أعجبك هذا المقال؟
لكتابة العنوان، اقترح فريق من ٧ كتاب -على الأقل- ما يزيد عن ٣٠ عنواناً حول هذا الموضوع فقط، اختير منها ٥ نوقشوا بين الكتاب والمحررين، حتى انتقوا واحداً للعمل على تطويره أكثر. بعد ذلك، يسرد أحد الكتاب أفكاره في نص المقال بناء على العنوان، ثم يمحو معظمها ويبقي على المضحك منها وما يحوي رسالةً ما أو يطرح وجهة نظر جديدة. لدى انتهاء الكاتب من كل ذلك، يشطب المحرر ويعدل ويضيف الجمل والفقرات ثم يناقش مقترحاته مع الكاتب، وحين يتفقان، ينتقل النص إلى المدقق اللغوي تفادياً لوجود الهمزات في أماكن عشوائية. في الأثناء، يقص فريق المصممين ويلصق خمس صور ويدمجها في صورة واحدة. كل هذا العمل لإنتاج مقال واحد. إن ضم المزيد من الكتاب والمصممين إلى الفريق التحريري أمر مكلف، ويستغرق المتدرب وقتاً طويلاً لبناء الخبرات والاندماج في العقل الجمعي للفريق.لكن ما الهدف من ذلك كله؟ بالتأكيد أنَّ السخرية من المجانين الذين يتحكمون بحياتنا أمر مريح، لكنَّنا نؤمن أنَّ تعرية الهالات حولهم، وتسليط الضوء على جنونهم، خطوة ضدَّ سلطتهم تدفعنا شيئاً فشيئاً نحو التغيير.نحن نحتاج دعمك للاستمرار بتوسيع الفريق.