Civilised restaurant removes bidets from its bathrooms
Saeed Duchamp - AlHudood's Correspondent on Postmodern Plumbing
20 Jun 2021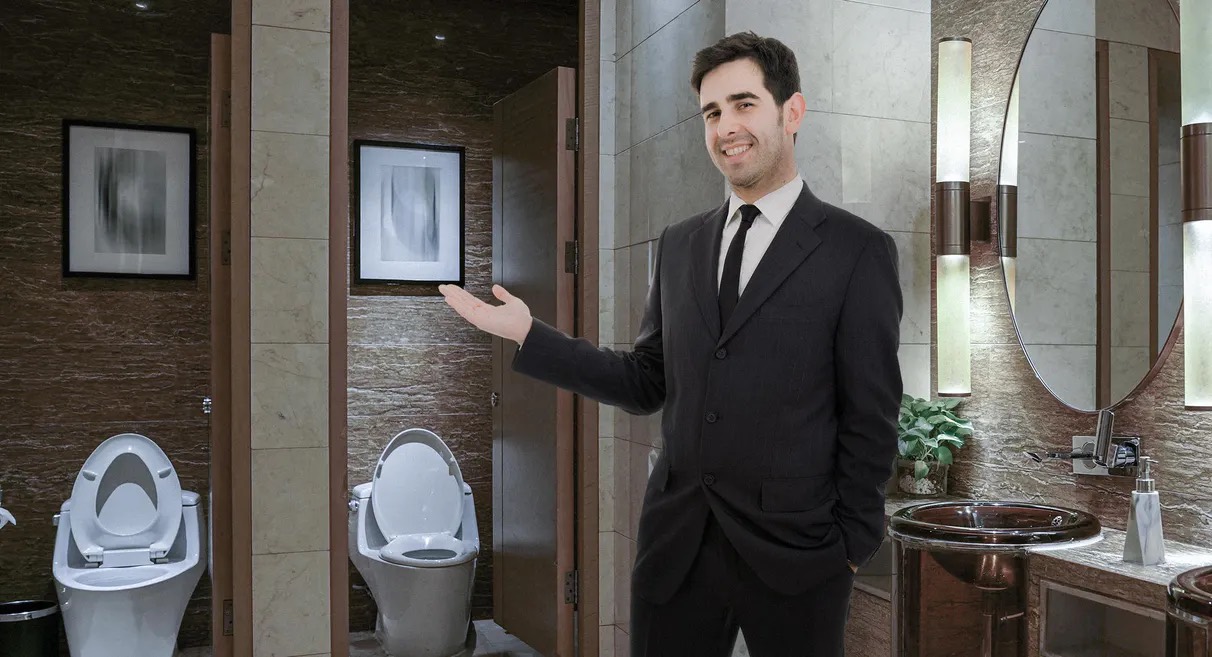 Western Fahloul Grill restaurant has resolved to compete with the most sophisticated five-star restaurants in the world targeting elite customers by providing the finest services and following international deluxe restaurant standards, starting with re-structuring the bathrooms and getting rid of all bidets.
Monsieur Khalil Fahloul, the CEO and rightful heir to the restaurant following the death of its founder Haj Khaldoun Fahloul, said his initiative not only aims to attract new customers, but "to improve the old customers' sense of taste, by raising them from their barbarism, tents, and bidets to the enlightened practices of Western civilisation." 
"We will make them understand that we are overpriced for a reason, because we are offering a live experience that emulates a Westerner's life," he added.
Fahloul said the measure would relieve customers of  the burden of the ancient hosepipe, which often soaks their underwear and the marble floor of the bathroom as they attempt to adjust its water pressure, while allowing them to indulge in the luxury of wiping their backsides with delicate tissues. 
Khalil said that removing bidets is one step among many modern adjustments the restaurant wants to impose. 
"Soon, the idea of water will be entirely eliminated," he said. "The sinks and soap will be replaced with scented towels, water bottles on tables will be minimised to spread awareness among customers about environmental issues and the water crisis by pushing them to reduce their use."
هل أعجبك هذا المقال؟
لكتابة العنوان، اقترح فريق من ٧ كتاب -على الأقل- ما يزيد عن ٣٠ عنواناً حول هذا الموضوع فقط، اختير منها ٥ نوقشوا بين الكتاب والمحررين، حتى انتقوا واحداً للعمل على تطويره أكثر. بعد ذلك، يسرد أحد الكتاب أفكاره في نص المقال بناء على العنوان، ثم يمحو معظمها ويبقي على المضحك منها وما يحوي رسالةً ما أو يطرح وجهة نظر جديدة. لدى انتهاء الكاتب من كل ذلك، يشطب المحرر ويعدل ويضيف الجمل والفقرات ثم يناقش مقترحاته مع الكاتب، وحين يتفقان، ينتقل النص إلى المدقق اللغوي تفادياً لوجود الهمزات في أماكن عشوائية. في الأثناء، يقص فريق المصممين ويلصق خمس صور ويدمجها في صورة واحدة. كل هذا العمل لإنتاج مقال واحد. إن ضم المزيد من الكتاب والمصممين إلى الفريق التحريري أمر مكلف، ويستغرق المتدرب وقتاً طويلاً لبناء الخبرات والاندماج في العقل الجمعي للفريق.لكن ما الهدف من ذلك كله؟ بالتأكيد أنَّ السخرية من المجانين الذين يتحكمون بحياتنا أمر مريح، لكنَّنا نؤمن أنَّ تعرية الهالات حولهم، وتسليط الضوء على جنونهم، خطوة ضدَّ سلطتهم تدفعنا شيئاً فشيئاً نحو التغيير.نحن نحتاج دعمك للاستمرار بتوسيع الفريق.