Whatsapp adds feature that automatically ends relationships after long voice notes
14 Jun 2021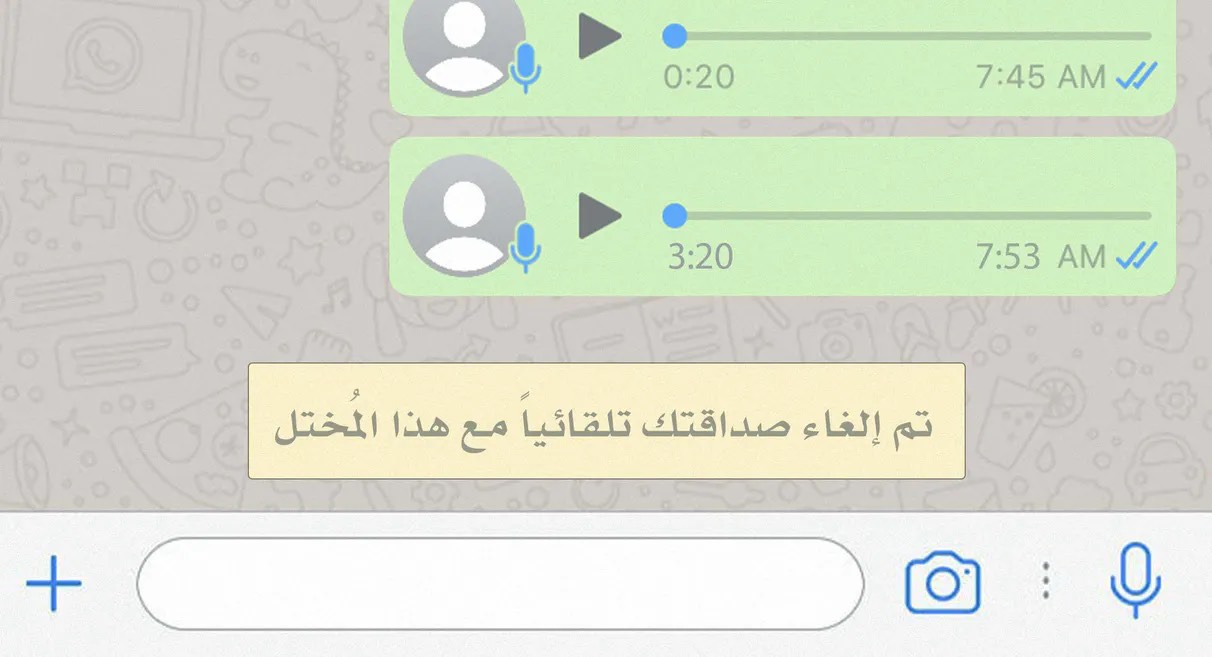 Facebook has announced plans to add a feature to social messaging app Whatsapp that erases friendships, family ties, and any past evidence of a relationship such as photos and text messages, if an individual sends a voice note that exceeds two minutes in length.
The social media giant said the feature is meant to help users identify their real friends that deserve to remain in their lives, in addition to its services of helping spread disinformation and hate speech efficiently and remaining in touch with faraway family members.
A company spokesman said the feature is meant to socially isolate individuals who frequently send long voice notes, in a manner similar to social distancing measures that are effective in combating the spread of the coronavirus.
The spokesman said the company recently added a feature that speeds up playback of voice notes, but it needed a more fundamental solution to deal with deranged individuals who send audio messages that exceed two minutes.
"We wanted to give victims the opportunity to completely erase these people from their lives instead of coexisting with them," he said. 
The new feature will remove any contact information of the victim on the perpetrator's phone, in addition to removing the perpetrator from any joint Whatsapp groups and deleting their sticker and meme collections. The company will work with local security services to identify and apprehend individuals who send voice notes longer than five minutes, as though their stream of consciousness is divine revelation.
Ayham Anqa, a social psychologist, said the medical establishment was hard at work to come up with a diagnosis for such individuals.
"These people have usually gone through childhood experiences that led to this horrendous habit," he said. "It may have been while they were still in the womb and had to listen to endless discussions about their future name, or by sitting in front of the TV for a long time listening to speeches by political leaders."
هل أعجبك هذا المقال؟
لكتابة العنوان، اقترح فريق من ٧ كتاب -على الأقل- ما يزيد عن ٣٠ عنواناً حول هذا الموضوع فقط، اختير منها ٥ نوقشوا بين الكتاب والمحررين، حتى انتقوا واحداً للعمل على تطويره أكثر. بعد ذلك، يسرد أحد الكتاب أفكاره في نص المقال بناء على العنوان، ثم يمحو معظمها ويبقي على المضحك منها وما يحوي رسالةً ما أو يطرح وجهة نظر جديدة. لدى انتهاء الكاتب من كل ذلك، يشطب المحرر ويعدل ويضيف الجمل والفقرات ثم يناقش مقترحاته مع الكاتب، وحين يتفقان، ينتقل النص إلى المدقق اللغوي تفادياً لوجود الهمزات في أماكن عشوائية. في الأثناء، يقص فريق المصممين ويلصق خمس صور ويدمجها في صورة واحدة. كل هذا العمل لإنتاج مقال واحد. إن ضم المزيد من الكتاب والمصممين إلى الفريق التحريري أمر مكلف، ويستغرق المتدرب وقتاً طويلاً لبناء الخبرات والاندماج في العقل الجمعي للفريق.لكن ما الهدف من ذلك كله؟ بالتأكيد أنَّ السخرية من المجانين الذين يتحكمون بحياتنا أمر مريح، لكنَّنا نؤمن أنَّ تعرية الهالات حولهم، وتسليط الضوء على جنونهم، خطوة ضدَّ سلطتهم تدفعنا شيئاً فشيئاً نحو التغيير.نحن نحتاج دعمك للاستمرار بتوسيع الفريق.