Arabs await emergence of their new leader in tight US election race
04 Nov 2020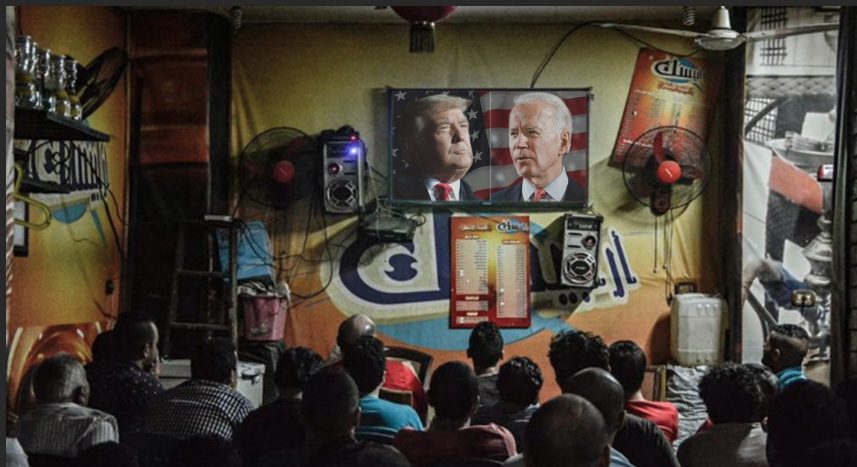 Arab citizens were anxiously waiting on Wednesday to find out the winner of the 2020 American elections, who will then be crowned leader of the Arabs and their leaders.
Experts say Arab presidents and monarchs need a strong leader who can show them right from wrong and punish them if need be, just like their citizens. 
"The regions' autocrats are Arabs after all, and the apple doesn't establish dictatorships far from the tree," said strategic expert Ayham Jardoun. 
But individual Arabs too are closely following the race in battleground states, to determine the exact method of delivery of the shit sandwich that will be repeatedly served to the Arab public in the next four years.
"Most Arab governments saved their citizens from divisive and chaotic democratic processes like elections and civil society, and took care of electing themselves by themselves," said political analyst Tahnoon al-Tahnoon. "Other governments allowed elections in which the people could express their full support for the leaders."
While Arab leaders expect whoever wins the White House to continue treating them like full American citizens, with health care and weapons coverage, Tahnoon said ordinary citizens can watch the democratic process unfold from their comfortable couches or prison cells without the burden of dreaming of a better tomorrow.
But he said the decades of revolutionary and independence movements, mass detention cells, widespread torture and general abuse had created a masochistic population that enjoys the horse race that will then trample their countries.
The 2020 elections enjoyed unprecedented interest from Arab citizens, who grew to see common ground with the US in terms of corruption, sexual harassment, racism and discrimination, rather than focusing on the divisions and disagreements that have alienated both sides over the years.
"It is difficult to choose, because on the one hand you have the orange sexual harasser who keeps things exciting, and bombs you indiscriminately and bars you from entering the country," said Tamadur Mahasees, an Arab without voting rights. "Others prefer Joe Biden who will likely deliver the bombs enveloped in much sweeter and more compassionate language."
هل أعجبك هذا المقال؟
لكتابة العنوان، اقترح فريق من ٧ كتاب -على الأقل- ما يزيد عن ٣٠ عنواناً حول هذا الموضوع فقط، اختير منها ٥ نوقشوا بين الكتاب والمحررين، حتى انتقوا واحداً للعمل على تطويره أكثر. بعد ذلك، يسرد أحد الكتاب أفكاره في نص المقال بناء على العنوان، ثم يمحو معظمها ويبقي على المضحك منها وما يحوي رسالةً ما أو يطرح وجهة نظر جديدة. لدى انتهاء الكاتب من كل ذلك، يشطب المحرر ويعدل ويضيف الجمل والفقرات ثم يناقش مقترحاته مع الكاتب، وحين يتفقان، ينتقل النص إلى المدقق اللغوي تفادياً لوجود الهمزات في أماكن عشوائية. في الأثناء، يقص فريق المصممين ويلصق خمس صور ويدمجها في صورة واحدة. كل هذا العمل لإنتاج مقال واحد. إن ضم المزيد من الكتاب والمصممين إلى الفريق التحريري أمر مكلف، ويستغرق المتدرب وقتاً طويلاً لبناء الخبرات والاندماج في العقل الجمعي للفريق.لكن ما الهدف من ذلك كله؟ بالتأكيد أنَّ السخرية من المجانين الذين يتحكمون بحياتنا أمر مريح، لكنَّنا نؤمن أنَّ تعرية الهالات حولهم، وتسليط الضوء على جنونهم، خطوة ضدَّ سلطتهم تدفعنا شيئاً فشيئاً نحو التغيير.نحن نحتاج دعمك للاستمرار بتوسيع الفريق.