Saudi government signs Hajj promotion deal with Cristiano Ronaldo
Fathi al-Maatarani - Halal investments correspondent
27 May 2023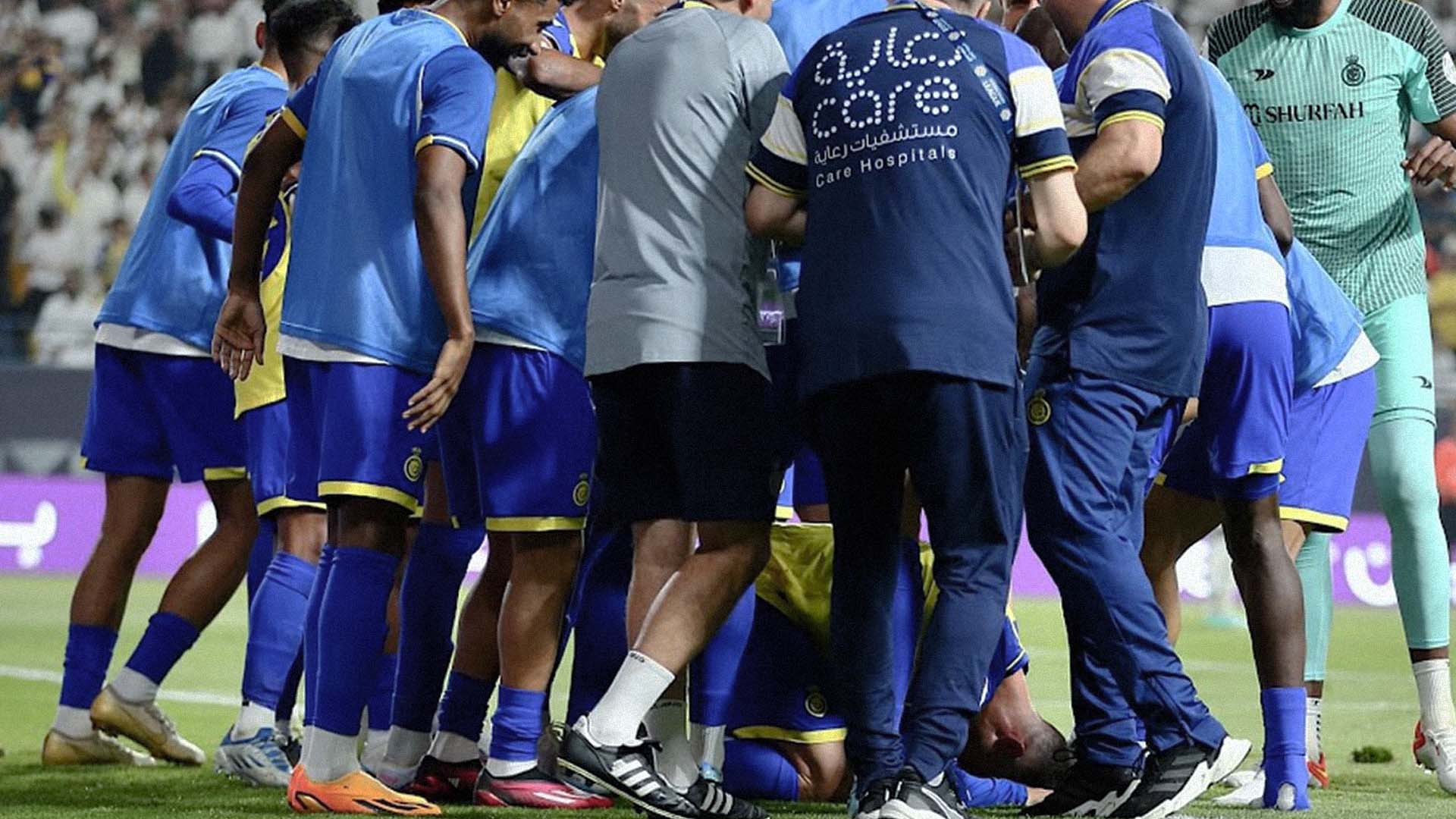 Saudi Arabia's sovereign wealth fund has signed a $650 million deal with al-Nasr star Cristiano Ronaldo to promote various religious activities during the Hajj season, following the Portuguese midfielder's prostration in the pitch after he scored a winning goal in a recent match in the Saudi premier league that reports say led to thousands embracing Islam.
Saudi officials hope the deal will encourage more people to partake in religious rituals and activities during the pilgrimage, particularly given the failure of religious clerics and television stations to retain a faithful audience.
Ronaldo announced the deal in a post on his personal Instagram account with the hashtag #Visit_Arafat, accompanied by a short video reel in which he is seen clad in Nike slippers and a towel as he performs the march between the hills of Safa and Marwa, before performing his signature goal-scoring celebration at the end.
Yasser al-Rumayyan, the head of the Saudi Investment Fund, said in a tweet that the deal is part of the kingdom's efforts to present the Hajj rituals in a modern way that reflects the ideals and goals of Crown Prince Muhammad bin Salman's Vision 2030. He said the Hajj season would be entirely filmed using drones and would feature the attendance of several influencers and celebrities from around the world including Argentinian footballer Lionel Messi.
The deal is also a sign of the heightened competition between Saudi Arabia and neighboring Qatar, which hosted the World Cup last year. Sources told AlHudood that the Saudi Investment Fund had commissioned special silk shemaghs and cloaks lined with gold specially made for Lionel and Antonella Messi, in an effort to highlight the fact that Islam and the Middle East have contributed more to the world than the traditional bisht that Messi wore at the final World Cup ceremony.
هل أعجبك هذا المقال؟
لكتابة العنوان، اقترح فريق من ٧ كتاب -على الأقل- ما يزيد عن ٣٠ عنواناً حول هذا الموضوع فقط، اختير منها ٥ نوقشوا بين الكتاب والمحررين، حتى انتقوا واحداً للعمل على تطويره أكثر. بعد ذلك، يسرد أحد الكتاب أفكاره في نص المقال بناء على العنوان، ثم يمحو معظمها ويبقي على المضحك منها وما يحوي رسالةً ما أو يطرح وجهة نظر جديدة. لدى انتهاء الكاتب من كل ذلك، يشطب المحرر ويعدل ويضيف الجمل والفقرات ثم يناقش مقترحاته مع الكاتب، وحين يتفقان، ينتقل النص إلى المدقق اللغوي تفادياً لوجود الهمزات في أماكن عشوائية. في الأثناء، يقص فريق المصممين ويلصق خمس صور ويدمجها في صورة واحدة. كل هذا العمل لإنتاج مقال واحد. إن ضم المزيد من الكتاب والمصممين إلى الفريق التحريري أمر مكلف، ويستغرق المتدرب وقتاً طويلاً لبناء الخبرات والاندماج في العقل الجمعي للفريق.لكن ما الهدف من ذلك كله؟ بالتأكيد أنَّ السخرية من المجانين الذين يتحكمون بحياتنا أمر مريح، لكنَّنا نؤمن أنَّ تعرية الهالات حولهم، وتسليط الضوء على جنونهم، خطوة ضدَّ سلطتهم تدفعنا شيئاً فشيئاً نحو التغيير.نحن نحتاج دعمك للاستمرار بتوسيع الفريق.