13 demands for Lebanon
05 Nov 2021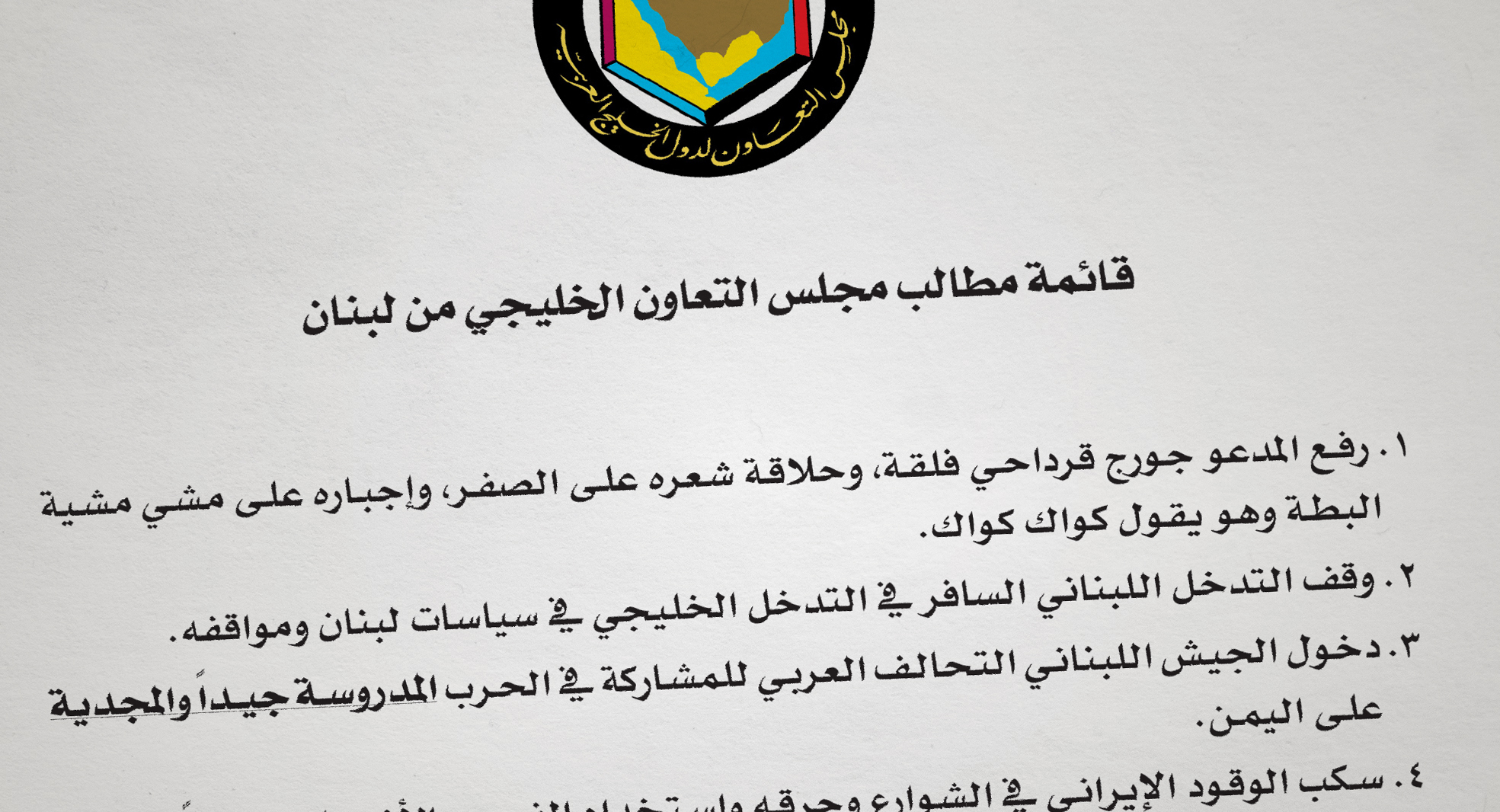 AlHudood has obtained a classified list of 13 demands issued by the Gulf states to Lebanon, conditions to forgive the transgression of George Qardahi, the minister of information, who described the frivolous and absurd war on Yemen by Saudi Arabia as frivolous and absurd.
Shave George Qardahi's head and force him to perform the moonwalk on live television.
End Lebanese interference in Gulf interference in Lebanon's policy.
Entry of the Lebanese army into the Arab alliance and the well-planned and effective war in Yemen.
Spill imported Iranian fuel in the streets and burn it, then use coal and trees as a power source until Saudi Arabia becomes sympathetic enough to offer some oil.
Closure of Al Manar and Al Mayadeen TV stations and the drafting of their employees into MBC and Al Arabiya.
Leaders of rebellious Lebanese factions must offer a formal pledge of allegiance to Mohammed bin Salman.
Returning Saad Hariri to continue his detention in Saudi Arabia.
Annual production of a musical album extolling the virtues of Gulf leaders with the participation of A-list celebrities such as Ragheb Alameh, Elissa and Majda Al Roumi.
Issue permits to eligible Saudi princes for the tax-free import and export of captagon.
Dissolution of Hezbollah, the Amal movement, and the Shia sect.
Reduced alcohol prices and night club entry fees for Gulf citizens.
Regular soiree events at Lebanese diplomatic missions in the Gulf that include substantial quantities of mezzes, kibbeh, tabbouleh, grilled meat and arak, as well as performances by at least one singer and one dancer.
Lebanon must agree to these demands within 10 days, or they will be replaced with more onerous ones.
Glory to the Almighty
Crown Prince Mohammed bin Salman bin Abdulaziz
هل أعجبك هذا المقال؟
لكتابة العنوان، اقترح فريق من ٧ كتاب -على الأقل- ما يزيد عن ٣٠ عنواناً حول هذا الموضوع فقط، اختير منها ٥ نوقشوا بين الكتاب والمحررين، حتى انتقوا واحداً للعمل على تطويره أكثر. بعد ذلك، يسرد أحد الكتاب أفكاره في نص المقال بناء على العنوان، ثم يمحو معظمها ويبقي على المضحك منها وما يحوي رسالةً ما أو يطرح وجهة نظر جديدة. لدى انتهاء الكاتب من كل ذلك، يشطب المحرر ويعدل ويضيف الجمل والفقرات ثم يناقش مقترحاته مع الكاتب، وحين يتفقان، ينتقل النص إلى المدقق اللغوي تفادياً لوجود الهمزات في أماكن عشوائية. في الأثناء، يقص فريق المصممين ويلصق خمس صور ويدمجها في صورة واحدة. كل هذا العمل لإنتاج مقال واحد. إن ضم المزيد من الكتاب والمصممين إلى الفريق التحريري أمر مكلف، ويستغرق المتدرب وقتاً طويلاً لبناء الخبرات والاندماج في العقل الجمعي للفريق.لكن ما الهدف من ذلك كله؟ بالتأكيد أنَّ السخرية من المجانين الذين يتحكمون بحياتنا أمر مريح، لكنَّنا نؤمن أنَّ تعرية الهالات حولهم، وتسليط الضوء على جنونهم، خطوة ضدَّ سلطتهم تدفعنا شيئاً فشيئاً نحو التغيير.نحن نحتاج دعمك للاستمرار بتوسيع الفريق.