Concerned socialite calls for empowering women by providing them with maids
09 Apr 2021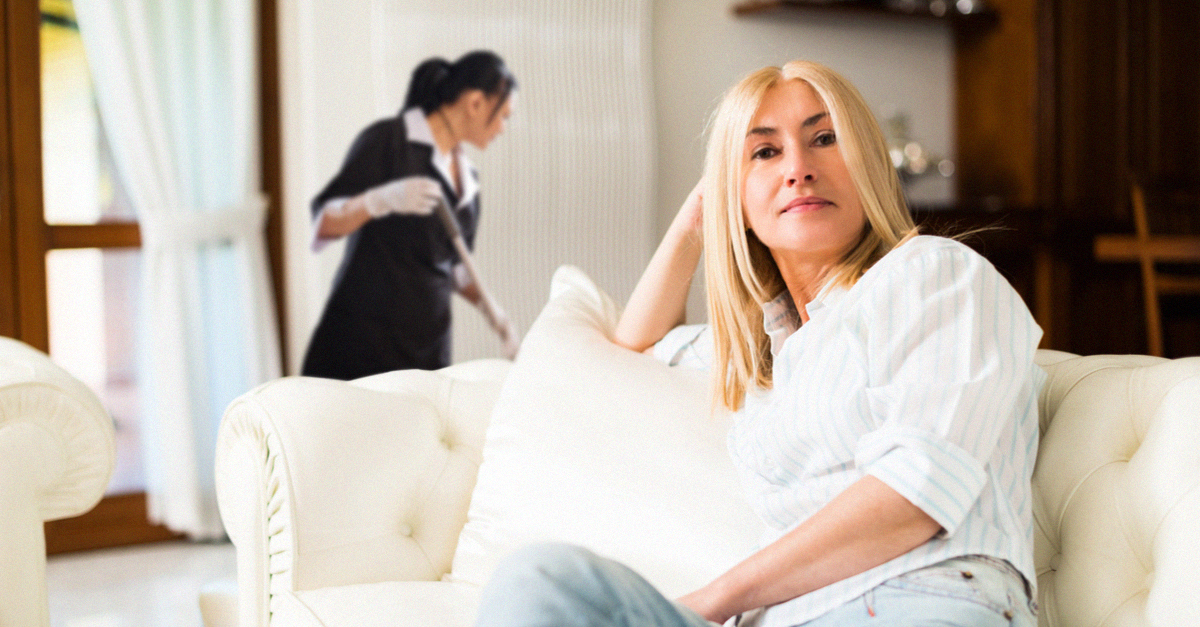 Uptown socialite, M.F. vocalized her concerns regarding underprivileged women not accessing their right to owning maids, household cleaners and carers, which are necessary for their empowerment in the household, and in society at large.
According to M.F., maids are now considered essentials to the modern life of a liberated woman, "otherwise, it would be unrealistic to expect us to rise above the burdens that we endure as strong independent women" she said.
"Women have suffered historically oppression, being forced to cook, clean, iron and raise kids", she continues, "In order to reach equality, we have to refuse carrying this weight on our shoulders, we have to refuse being held back when we can simply hire maids and force them to cook, clean, iron and raise kids"
M.F. also commented on some women's demands to share household responsibilities with men; she deems such approach inconsiderate and cruel, "Men are our partners in the struggle for equal rights, we cannot wish upon them what we do not wish upon ourselves"
M.F. also emphasized the need for official support of women empowerment, calling for government financial incentives related to hiring migrant domestic workers. "Given the gender-based wage gap that already exists, taxes and customs tariffs should be reduced, and subsidies should be allocated to women so they can afford to hire all the help they need."
هل أعجبك هذا المقال؟
لكتابة العنوان، اقترح فريق من ٧ كتاب -على الأقل- ما يزيد عن ٣٠ عنواناً حول هذا الموضوع فقط، اختير منها ٥ نوقشوا بين الكتاب والمحررين، حتى انتقوا واحداً للعمل على تطويره أكثر. بعد ذلك، يسرد أحد الكتاب أفكاره في نص المقال بناء على العنوان، ثم يمحو معظمها ويبقي على المضحك منها وما يحوي رسالةً ما أو يطرح وجهة نظر جديدة. لدى انتهاء الكاتب من كل ذلك، يشطب المحرر ويعدل ويضيف الجمل والفقرات ثم يناقش مقترحاته مع الكاتب، وحين يتفقان، ينتقل النص إلى المدقق اللغوي تفادياً لوجود الهمزات في أماكن عشوائية. في الأثناء، يقص فريق المصممين ويلصق خمس صور ويدمجها في صورة واحدة. كل هذا العمل لإنتاج مقال واحد. إن ضم المزيد من الكتاب والمصممين إلى الفريق التحريري أمر مكلف، ويستغرق المتدرب وقتاً طويلاً لبناء الخبرات والاندماج في العقل الجمعي للفريق.لكن ما الهدف من ذلك كله؟ بالتأكيد أنَّ السخرية من المجانين الذين يتحكمون بحياتنا أمر مريح، لكنَّنا نؤمن أنَّ تعرية الهالات حولهم، وتسليط الضوء على جنونهم، خطوة ضدَّ سلطتهم تدفعنا شيئاً فشيئاً نحو التغيير.نحن نحتاج دعمك للاستمرار بتوسيع الفريق.